By Lois Veber-Altman, Jan 30, 2020 – Rise A Community Service Partnership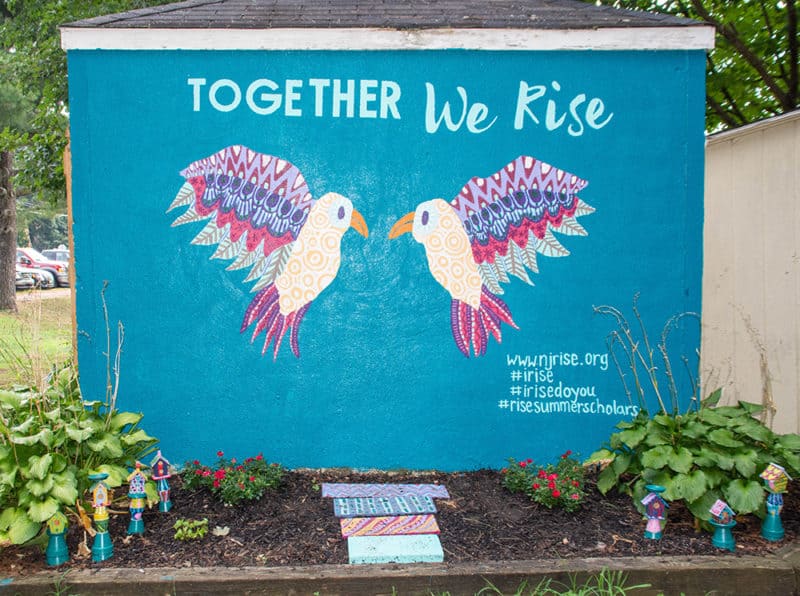 Vibrant colors of tropical butterflies and murals shaped like butterfly wings lit up the afternoon for Rise?s annual showcasing of artwork produced by the kids in its summer camp. Rise has been a community service organization for the greater Hightstown/East Windsor area for more than 50 years.
The festivities started at 12 Farms Restaurant on Main Street which displayed an array of more than 30 bowls that had been hand painted by campers from kindergarten through 8th grade, part of a silent auction to raise funds for the program. The restaurant donated an elaborate spread of hors d?oeuvres for guests and spectators to nibble on while bidding on the artwork and hearing about the camp?s enrichment program from camp director Efrain Monterroso and art director Jill Lee-You.
Leslie Koppel, executive director of Rise, donated a piece of artwork to Mercer County, and Marygrace Billek, Mercer County Human Services Director, accepted it on behalf of County executive Brian Hughes and the Board of Chosen Freeholders.
From 12 Farms, participants dodged raindrops and moved down Main Street to other participating businesses that showcased art installations, including painted rugs and murals: Morgan?s Island Grill, Great Goods Thrift Store, Perennial Home, S
titches-n-ink, and Dawes Park. Rain and thunder did little to daunt stalwart art enthusiasts, dedicated supporters of Rise?s program, and the kids themselves, who were articulate advocates for their artistic accomplishments at each stop along the way.
Other businesses that supported this year?s program include Sherwin Williams of East Windsor; Rita?s Water Ice of East Windsor; Ralph?s Ice Cream; Hightstown Arts Commission; and the Hightstown Parks and Recreation Commission.
Article by Lois Veber-Altman, Photos by Maitiel Jimenez ? Charity Corner, Neighbors of East Windsor, November 2019 Edition.