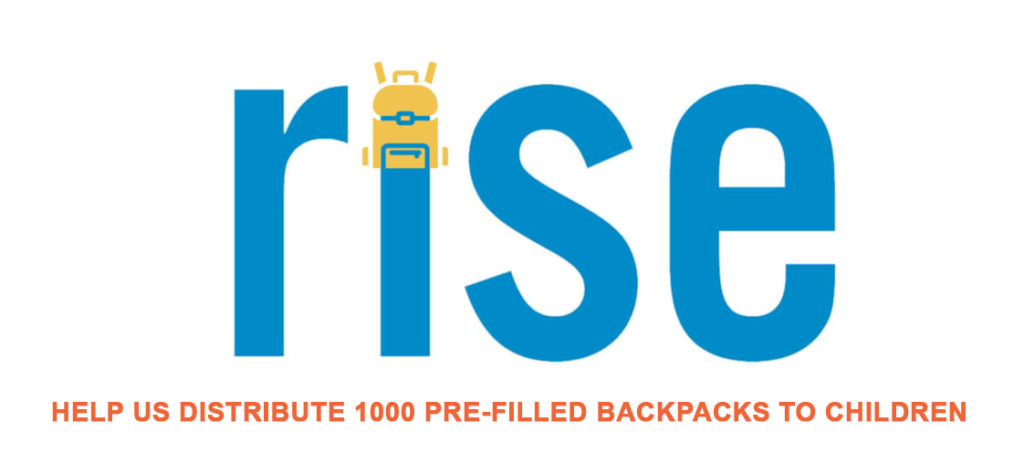 Backpack distribution for Rise clients will be on Tuesday, August 22nd from 9 am to 4 pm and Wednesday, August 23rd from 9 am to 7 pm at the Rise home office 219 Franklin St, Hightstown.  Non-registered clients must show for each child a report card or birth certificate to receive a school backpack on Thursday, August 24th from 9 am to 4 pm and Monday, August 28th from 9 am to 4 pm.
La distribución de mochilas para los clientes de Rise será el martes 22 de agosto de 9 am a 4 pm y el miércoles 23 de agosto de 9 am a 7 pm en la oficina central de Rise 219 Franklin St, Hightstown. Los clientes no registrados deben mostrar por cada niño una boleta de calificaciones o acta de nacimiento para recibir una mochila escolar el jueves 24 de agosto de 9 am a 4 pm y el lunes 28 de agosto de 9 am a 4 pm.
The 2023 Rise Backpack & School Supply Drive is in full swing
As our children return to in-person classroom settings for the 2023 – 2024 school year, we need your help! There is something compelling about giving a kid a backpack. It doesn't matter what the child's home is like. They have the same chance as everyone else by getting school supplies and being prepared for the first day of school.
Many of the families served at Rise lack the resources needed to purchase much-needed backpacks and school supplies. Our goal this year is to distribute 1,000 pre-filled backpacks to local children.
Please help us fill our record-high requests by starting a neighborhood collection, setting up a drive within your office, or adding an extra set of supplies to your own back-to-school shopping list!
Drop off location:  Rise Home Office – 219 Franklin Street, Hightstown, NJ 08520 – For more information call 609-443-4464.
Items ACCEPTED for the School Supply Drive include:
Backpacks (maybe new OR gently used)
NEW 1, 3, and 5 Subject Notebooks
NEW Composition Notebooks
NEW Folders
NEW Pencil Cases
NEW #2 Pencils
NEW Pencil Sharpeners
NEW Erasers
NEW Pens
NEW Hi-lighters
NEW Crayons, Washable Markers, and Colored Pencils
NEW Binders
NEW Binder Paper
NEW Book Covers
NEW Calculators
NEW Child Safety Scissors
NEW Dividers
NEW Glue
NEW Rulers (12″)
NEW Laptops or Tablets
NEW Headphones
Visa or Amazon Gift Cards