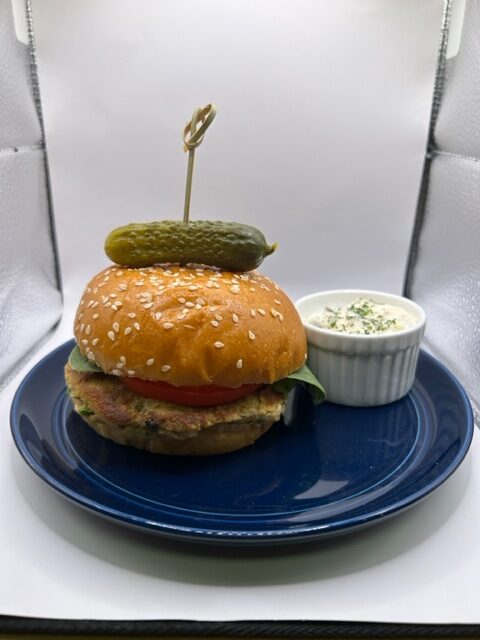 Salmon Burgers
Ingredients
Canned Salmon, drained ( remove skin  bones) 1 can ( 15oz)                                                       
Mustard (Dijon, Brown or Yellow)  2 TBLS
Eggs, beaten                                   2  each
Garlic, powder or granulated         ½ tsp    
Black pepper ground                      ½ tsp
Lemon juice                                    1 lemon
Breadcrumbs                                  ¼ cup
Scallion, thinly sliced                      2 stalks
Salt                                                 2 tsp
Oil          1 TBSP
Directions
Place canned salmon, mustard, garlic powder, black pepper, bread crumbs, scallions, and lemon juice in a bowl, and fold to incorporate.
Evenly divide the mixture into four balls and form into patties.
Heat oil (on medium heat) in a large saute pan until shimmering; place burgers in the pan.
Lightly brown on each side; cook until the center reaches 165 degrees. *  Alternate cooking method: patties can be placed on a lightly oiled pan and baked in a pre-heated 400-degree oven for approximately 20 minutes until internal temperature reaches 165 degrees. 
Serving suggestion: -On a bun, add thinly sliced tomatoes and tartar sauce;- On their own, with a squeeze of fresh lemon, -On salad greens, crisp leafy greens and veggies.