Jan 22, 2020 – Rise A Community Service Partnership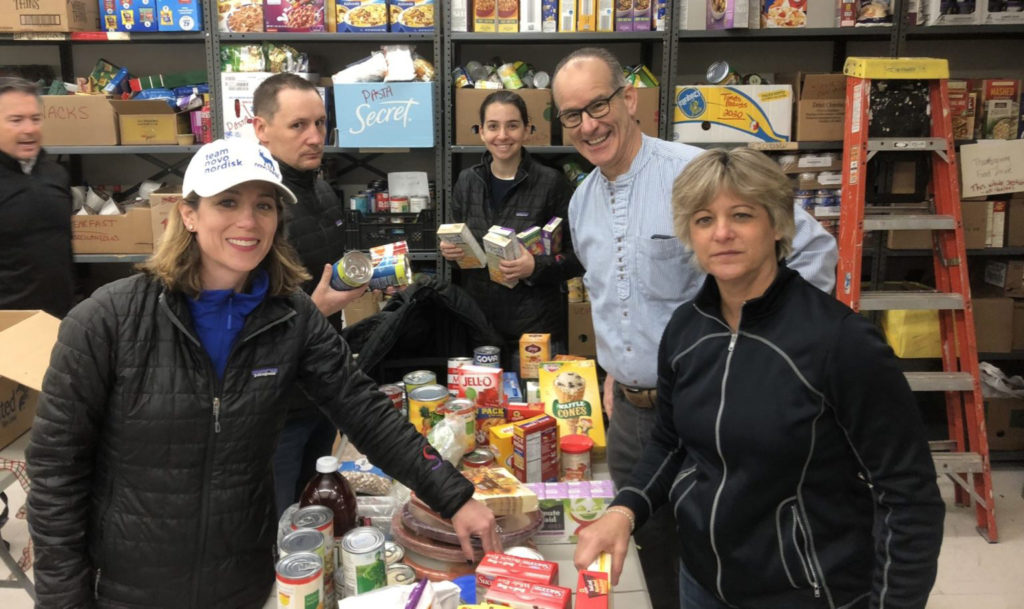 A team of 44 volunteers from Novo Nordisk answered the call from Rise, the community service organization, to pitch in and fill the shortfall in their annual Thanksgiving food drive.
Breaking from their jobs in Plainsboro a week before Thanksgiving, the team met at Rise's food pantry in Hightstown, rolled up their sleeves, and performed whatever tasks were necessary to assemble food bags for nearly 450 families in need. They sorted goods and when items ran out, they scoured nearby supermarkets for 120 additional turkeys, jars of gravy, fresh potatoes and produce, stuffing mix, and cranberry sauce. They added logistical muscle by loading trucks that delivered food to people unable to pick it up, and by moving furniture and stocking shelves in Rise's new food pantry.
The volunteers are part of the Market Access and Public Affairs team at Novo Nordisk. Novo Nordisk is committed to doing business in a financially, environmentally and socially responsible way, also known as its "Triple Bottom Line."
This is the second year that Novo Nordisk's U.S. headquarters has contributed to Rise's Thanksgiving program. "They were awesome" Julia Badulescu, Rise Food Pantry Director, raves about Novo Nordisk's volunteers. Her entire operation was re-locating from one building to another during the week of Thanksgiving distribution, so not only did Novo Nordisk's team sort and pack food, they transferred inventory, moved furniture, and helped organize the new space. "Without their help, we could not have served so many needy people," she says. "They were truly a blessing."
Beyond moving into new physical quarters, Rise's Food Pantry is transitioning to a "choice pantry," whereby clients select their items instead of receiving a pre-bagged assortment. Julia and her team look forward to making their partnership with Novo Nordisk a tradition to help them serve even more people more efficiently. The company's volunteerism has helped nearly 450 local families enjoy bountiful Thanksgiving dinners two years in row, an impressive example of how corporate outreach can elevate the lives of people in the community where they work.