By Joyce Rehan – Jan 23, 2018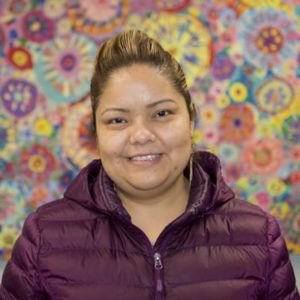 What else can you do when you're working as hard as you can, but don't have enough money to make ends meet, when you have mouths to feed, bills to pay, growing children who need clothes, new family members with nowhere to sleep, no transportation and no medical care? You've heard from friends that there are programs available to help you meet some of these needs, but you're relatively new to America and you don't speak the language. The holidays are coming and you are feeling very desperate. Your children will be lucky just to have enough to eat for the holidays. You're anxious, sad, depressed, embarrassed. A friend tells you there's a place in the community called Rise and if you go there, they will help you. What should you do?
All these questions faced Alicia Vasquez about 10 years ago. She was an East Windsor resident who had come to America from Mexico a few years earlier in hopes of making a better future for her children. Despite her husband's working every day, they found themselves in trouble. They had a roof over their heads but they were barely making it. It was nothing but constant worry. Alicia says, "We are a low income family and we needed food assistance. Necessity makes you do things you don't expect." So, she mustered her courage and went to the Rise office. "I entered with fear, not knowing what was to be. Everyone treated me with respect though and they were really nice. I felt comfortable immediately, but I would have come even if they hadn't been nice. You have to do what you have to do."
Rise case managers did their usual intake work-up evaluating the Vasquez children's paperwork, the family's income verification and proof of address in order to see if they qualified for food assistance. "I was so surprised," said Alicia, "I went there for food help and they signed us up for holiday gifts for the kids too! For days my kids couldn't think of anything but those gifts. They were so excited and emotional."
Alicia has been receiving ongoing help from Rise ever since. She has benefitted from and uses the Rise Thrift Store, Rise's Food Pantry and the Rise Furniture Re-Sale Store. Her family has valued Rise's school supplies backpack event, community dinners, Thanksgiving baskets and all the gifts they have received over the years. This year, the Vasquez family was invited to participate in bicycle gifting event. Alicia cried when she recalled the joy her children experienced as all four of them received brand new bicycles from one of Rise's donors. Alicia's 7 year old daughter said, "I can't believe we all have our own bicycles." Alicia says this could never have happened for her children otherwise.
Alicia recalls how Rise workers have helped her navigate the paperwork for programs like Snap, a NJ food supplement program and NJ Family Care, a NJ health care program. They can also help with the paperwork for programs like Safe Link, a program to put cellphones into the hands of the elderly and disabled, Medicool, a NJ program to provide air conditioners to the elderly and disabled and the federal Medicare and Medicaid programs. They help with document translations which Alicia says is an invaluable service and referrals to immigration and legal aid services. When asked about any additional needs in our community, Alicia says that our area could really use some kind of transportation system and immigration services.
Alicia is thinking ahead to her future. She is determined to watch her diet and eat healthier for her family as she works hard to lose weight. She recalls that in the past Rise provided her with the services of a nutritionist. She found that to be very helpful and she learned a lot. She wants to be a great mother and to grow personally. Of course, she would love a better house too.
Alicia says, "I see Rise's food pantry, community dinner, various stores, events and programs as a long term supplement to our family's income. The people who work in the office and the various places try hard to help and they help without wanting something back. Thank you, Rise, for everything you've done for me and my entire family. Thanks to all the people who work at the food pantry especially Gail Zelenak who always tries to help and does so with a big smile. Without Rise, it would be a bad situation for us. We really need Rise."
Now that Alicia's four children are all in school, she has a little free time. She thinks she might like to spend some of it volunteering at Rise, a place where the staff and volunteers have always given her a hand up, not a hand out….a place where she can give back by extending her own helping hand.