Rise Pantry FUN (Families Understanding Nutrition)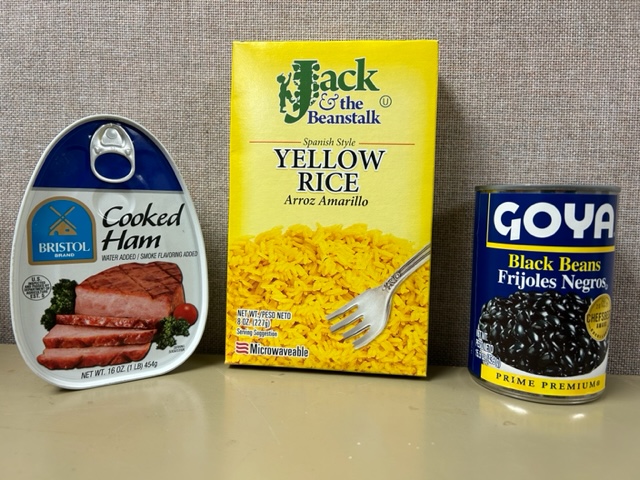 Ham & Rice
Ingredients
Vegetable oil 2 TBLS
Onions, chopped 4 oz or one small onion
Garlic, chopped two cloves
Cooked, canned ham, diced ½" 1 can (16oz)
Canned Black Beans, rinsed one can (15oz)
Yellow rice 1 box (8oz)
Directions
Place oil in 4 qt stock pot and heat to a shimmer.
Add onions and garlic, and saute for 2 minutes.
Add the contents of rice and seasonings.
Add water per package directions, and cook for approximately 25 minutes, until rice is al dente.
Add diced ham, rinsed and drained black beans, and peas to the rice.
Shut off the heat, and mix thoroughly to incorporate.
Arroz Con Jamón
Ingredients
Aceite vegetal 2 TBLS
Cebollas, picadas 4 oz o 1 cebolla pequeña
Ajo, picado 2 dientes
Jamón cocido, enlatado, cortado en cubitos ½" 1 lata (16 oz)
Frijoles negros enlatados, enjuagados 1 lata (15 oz)
Direcciones
Coloque el aceite en una olla de caldo de 4 qt y caliente hasta que brille.
Agregue las cebollas y el ajo, saltee por 2 minutos.
Agregar contenido de arroz y condimentos.
Agregue agua según las instrucciones del paquete, cocine aproximadamente 25 minutos, hasta que el arroz esté al dente.
Agregue el jamón picado, los frijoles negros lavados y escurridos y los guisantes al arroz.
Apague el fuego, mezcle bien para incorporar.